Nestled amidst the vibrant landscapes of Dubai, DAMAC Hills is a community renowned for its luxurious lifestyle. However, even the most upscale residences require occasional maintenance and repairs. That's where AustenTech comes in. We are a leading provider of handyman services in DAMAC Hills, offering a comprehensive range of solutions to keep your home in pristine condition.
Our Expertise: A Spectrum of Handyman Skills
At AustenTech, we understand that every home has unique needs. Our team of experienced and skilled technicians possesses a vast array of handyman skills, ensuring that we can tackle any task, big or small. Whether it's assembling furniture, repairing appliances, or addressing electrical or plumbing issues, our experts are equipped to handle it all.
Our Commitment: Reliability and Customer Satisfaction
We are committed to providing our DAMAC Hills residents with the highest quality handyman services. We pride ourselves on our reliability, efficiency, and customer-focused approach. Our technicians are not only experts in their field but also courteous and professional, ensuring a seamless and satisfactory experience for every client.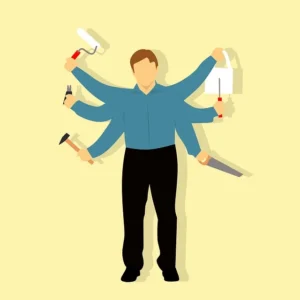 Our Services: Tailored to Your Needs
Our comprehensive range of handyman services caters to a wide spectrum of needs. We can assist with:
Furniture Assembly and Disassembly: Whether it's a brand-new bed frame or a complex home entertainment unit, our team can expertly assemble and disassemble any furniture piece.

Appliance Repair and Installation: From refrigerators and washing machines to ovens and dishwashers, our technicians are proficient in repairing and installing a variety of household appliances.

Electrical Work: We can handle a wide range of electrical tasks, including light fixture installation, switch and outlet repairs, and troubleshooting electrical faults.

Plumbing Work: From leaky faucets to clogged drains, our plumbers are equipped to address any plumbing issue promptly and effectively.

Painting and Drywall Repair: If your walls are looking a bit worn or you need drywall repairs, our team can revitalize your home's interior with their painting and drywall expertise.

Carpentry and Woodwork: We can handle a variety of carpentry tasks, including door and window repairs, custom woodwork projects, and fixing loose railings.

Landscaping and Gardening: Keep your outdoor spaces looking their best with our landscaping and gardening services. We can trim hedges, maintain lawns, and plant flowers to enhance your home's curb appeal.

Cleaning and Maintenance: Our comprehensive cleaning services can restore your home to its sparkling state. We can handle deep cleaning, regular maintenance, and even post-construction cleaning.
Contact Us Today: Experience the AusteniteTech Difference
Whether you need assistance with a minor repair or a complete home makeover, AustenTech is your one-stop solution for handyman services in DAMAC Hills. Call us today at +971 56 378 7002 to schedule an appointment and experience the AustenTech difference – where reliability, expertise, and customer satisfaction meet to transform your home.