24 Hours AC Repair in Dubai Fast and Reliable Solutions to Beat the Heat!
Efficient AC Repairs Anytime, Anywhere
Facing a sudden AC breakdown? Don't sweat it! Austenite Technical Services LLC is here to provide you with quick and reliable air conditioning repairs that are available round the clock. Our team of skilled technicians is just a call away, ensuring that your comfort is restored in no time. With our 24/7 availability, you can trust us to be there when you need us the most.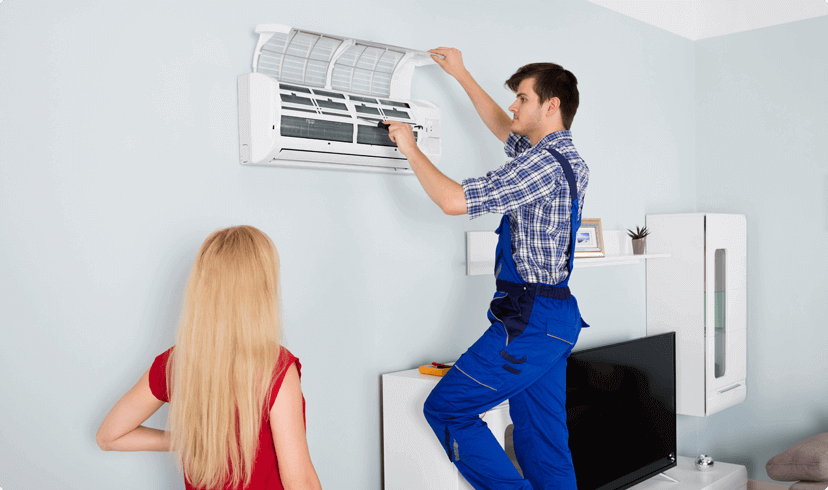 Fast and Reliable Repairs on Demand
Timely response, guaranteed: We understand the urgency of AC issues, especially in the scorching heat of Dubai. That's why we prioritize your comfort and respond swiftly to your repair request, arriving at your doorstep promptly.
Trained technicians at your service: Our team of experienced technicians possesses in-depth knowledge and expertise in handling all types of AC systems, allowing us to diagnose and troubleshoot your AC problems efficiently. Rest assured, we'll have your cooling system up and running in no time.
Comprehensive AC Repair Solutions
Professional inspection and diagnosis: Our skilled technicians conduct a thorough examination of your AC system to identify the root cause of the problem. By accurately diagnosing the issue, we can provide you with the most effective and long-lasting solution.
Efficient repairs using quality parts: We believe in using only genuine and high-quality spare parts for AC repairs. This ensures not only the longevity of your cooling system but also guarantees optimal performance and energy efficiency.
Emergency AC Repair Services
Round-the-clock assistance: AC malfunctions can happen at any time, often catching us off guard. Whether it's daytime or the middle of the night, our dedicated team is available 24/7 to resolve your AC emergency.
Immediate response for critical situations: If you're experiencing an AC breakdown during extreme weather conditions, we understand the urgency. Our emergency AC repair services prioritize critical cases, ensuring swift and efficient solutions to restore your cooling comfort.
Why Choose Austenite Technical Services LLC for your 24-Hour AC Repair Needs?
At Austenite Technical Services LLC, we go beyond just providing AC repairs. We strive to deliver a seamless and exceptional experience, tailored to meet your specific needs. Here's why we stand out from the competition:
Customer-Centric Approach
Your satisfaction is our priority: We firmly believe in putting our customers first. We listen attentively to your concerns and requirements, providing personalized solutions that best suit your AC repair needs.
Transparent communication: We ensure open and honest communication throughout the repair process. Our technicians will explain the problem, the proposed solution, and provide an accurate estimate before undertaking any repairs, eliminating any surprises or hidden costs.
Skilled and Trustworthy Technicians
Expertise and professionalism: Our technicians are highly skilled and undergo regular training to stay updated with the latest advancements in AC technology. You can trust their knowledge and expertise when it comes to diagnosing and repairing your AC system.
Background-checked and reliable: Your safety and peace of mind matter to us. All our technicians undergo thorough background checks and are committed to delivering reliable and trustworthy services.
Timely and Efficient Services
No delays, no compromises: We understand the inconvenience caused by a malfunctioning AC system. That's why we prioritize timeliness and ensure efficient repairs that minimize downtime and restore comfort to your space swiftly.
State-of-the-art tools and equipment: To provide you with top-notch services, we equip our technicians with state-of-the-art tools and equipment. This empowers them to deliver accurate repairs and efficient solutions, regardless of the complexity of the issue.
Contact Us for Your AC Repair Needs
Has your AC suddenly stopped cooling? Reach out to Austenite Technical Services LLC, the leading 24-hour AC repair service provider in Dubai, and let us take care of your cooling comfort. With our round-the-clock availability, skilled technicians, and customer-centric approach, you can trust us to resolve any AC issues you face.
Contact us now for dependable AC repairs that will keep you cool and comfortable, no matter the time of day or night. Don't let the heat get the best of you – choose Austenite Technical Services LLC for all your AC repair needs!
Dubai AC repair
Emergency AC repair Dubai
24-hour AC repair Dubai
AC repair services in Dubai
Fast AC repair Dubai
Reliable AC repairs
Round-the-clock AC repair
Skilled AC technicians
Dubai AC maintenance services
AC breakdown assistance
Expert 24-Hour AC Repair in Dubai
Swift and Reliable AC Repairs Anytime
Emergency AC Repair Services: Quick Solutions
Beat the Heat with Round-the-Clock AC Repairs
Trusted 24/7 AC Repair Services in Dubai
The United Arab Emirates, is a sovereign state in Western Asia at the northeast end of the Arabian Peninsula on the Persian Gulf, bordering Oman to the east and Saudi Arabia to the south and west.